NOTICES:
TRAVEL TO SAMOA
In line with the Samoa Government State of Emergency Order for Coronavirus, all international travel to and from Samoa has ceased from Thursday, 26 March 2020, except as provided in exceptional circumstances approved by Cabinet. The current Amended State of Emergency Order #60 commences on 22 November until 16 January 2022, when it will be reviewed again.

The Government of Samoa has approved repatriation flights (Auckland – Apia) for returning Samoan residents stuck in New Zealand and beyond; the first flight commenced on 29 May 2020. Samoans, resident in New Zealand and beyond, are not allowed to travel to Samoa for fa'alavelave (funerals, weddings, church/school openings etc) or to visit family, as priority is given to Samoan residents to return home safely.

Registrations for repatriation flights to Samoa (Auckland – Apia) are facilitated through the Samoa Consulate-General in Auckland (telephone: +64 (0) 9 303 1012).
An official schedule for repatriation flights for 2022 has yet to be released.
HEALTH REQUIREMENTS FOR TRAVEL TO SAMOA
All travelers must take note of and follow the latest Special Health Travel Advisory (30 November 2021) and the Medical Clearance Form (24 February 2021). Travelers are advised to expect changes at short notice.
While the Samoa High Commission endeavours to keep the information on this page as current as possible, the most up to date travel requirements can always be found on the Samoa Ministry of Health Website.

Should you need clarification regarding the Travel Advisory, please email enquiries@health.gov.ws or samoahealth.travelenquiries@gmail.com.

For further information on the conditions and availability of pre-departure COVID-19 testing for individuals wishing to leave New Zealand, please refer to the following: Frequently Asked Questions (FAQ) or the New Zealand Ministry of Health Website.
Press Releases/Advisories:
Updated Special Health Travel Advisory for Samoa (30 November 2021)

Fetuunaiga o Faigamalaga a Vaalele o loo totoe mo lenei Tausaga 2021 (18 November 2021)

Femalagaiga mo le Afa Mulimuli o le Tausaga (4 June 2021)

Repatriation Flights From New Zealand for May and June 2021 (28 May 2021)

Faatulagaga o Malaga a Vaalele mo Mati ia Iuni / Teuteuga ole Poloaiga mo Faalavelave Tutupu Faafuasei (12 March 2021)

Government of Samoa Medical Clearance Form (24 February 2021)

Faigamalaga mo le Kuata Lona Lua ole Tausaga 2021 (4 February 2021)

Revised Requirements for Home Quarantine (3 February 2021)

Faigamalaga mo le Kuata Muamua ole Tausaga 2021 (6 January 2021)

Media Release – COVID19 Cases & Alert Level Response Activated (27 November 2020)

Media Release – New Mandates for Repatriation Flights (27 November 2020)

Guideline for Repatriation of Deceased Bodies

Repatriation flights (AU/NZ), Deceased Citizens and other Changes (4 September 2020)

Press Release – Conditions of International Travel Under SOE (16 July 2020)

Press Release – Passenger Flights to Repatriate Samoan Nationals (20 May 2020)
…………………………………………………………..
Greetings from the High Commissioner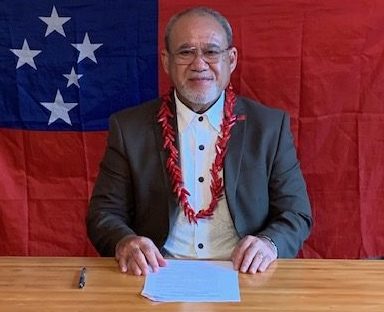 Talofa Lava!
Soifua Manuia i le Paia ma Mamalu Maualuluga o Samoa o lo'o Ala'ala ma Papa'a'ao i Aotearoa
Kia Ora whanau and friends of Samoa in New Zealand
Samoa and New Zealand's relationship dates back to 1914, at the beginning of World War 1, when New Zealand took over control of Samoa from Germany. Following WW1, New Zealand continued to Administer Samoa under a Mandate from the League of Nations (United Nations) until our independence in 1962. Samoa and New Zealand established diplomatic relations in 1962, which relations was further enhanced by the signing of the Treaty of Friendship between our two countries in August of the same year. This is the only such Treaty signed by either country, to date.
Several factors have contributed to the unique relationship between New Zealand and Samoa, including the many positive achievements of the rising Samoan ethnic population in Aotearoa. The increased presence of Samoans in the NZ Parliament as well as in Senior Positions of Government have also helped to secure avenues through which the interests of Samoans in New Zealand can be better heard and realised.
The bilateral relations between our two countries has been further amplified by New Zealand's ongoing assistance to Samoa's emergency needs as well as to our economic and social developments over the years. The frequent visits of high-ranking officials between our two countries have also helped in developing better understanding and appreciation of each country's priorities and aspirations.
Samoa is committed to further develop and deepen the close relationship that we share with New Zealand, including those in the fields of trade, tourism, sports and culture.
Our Samoan people who have settled in this friendly land of Aotearoa, to seek opportunities to also help improve the lives of their families and communities back home in Samoa, will remain a source of pride to our Country as they continue to contribute to the development of our warm relations with New Zealand.
On behalf of the Samoan Government, I would like to thank the New Zealand Government and People for the opportunities given to our Samoan People. Thank you also to our other Development Partner Countries for their positive contributions to our country's development over the years.
It is an honour and a privilege to serve as Samoa's High Commissioner to New Zealand, and in enhancing the warm relations between our two countries as well as Samoa's relations with the other countries with Missions in Wellington especially in my position as Dean of the Diplomatic Corps.
Sincerely,
Leasi Papali'i T Scanlan
High Commissioner and Dean of Diplomatic Corps