Presentation of Credentials of the High Commissioner of the Independent State of Samoa to New Zealand
10th August 2023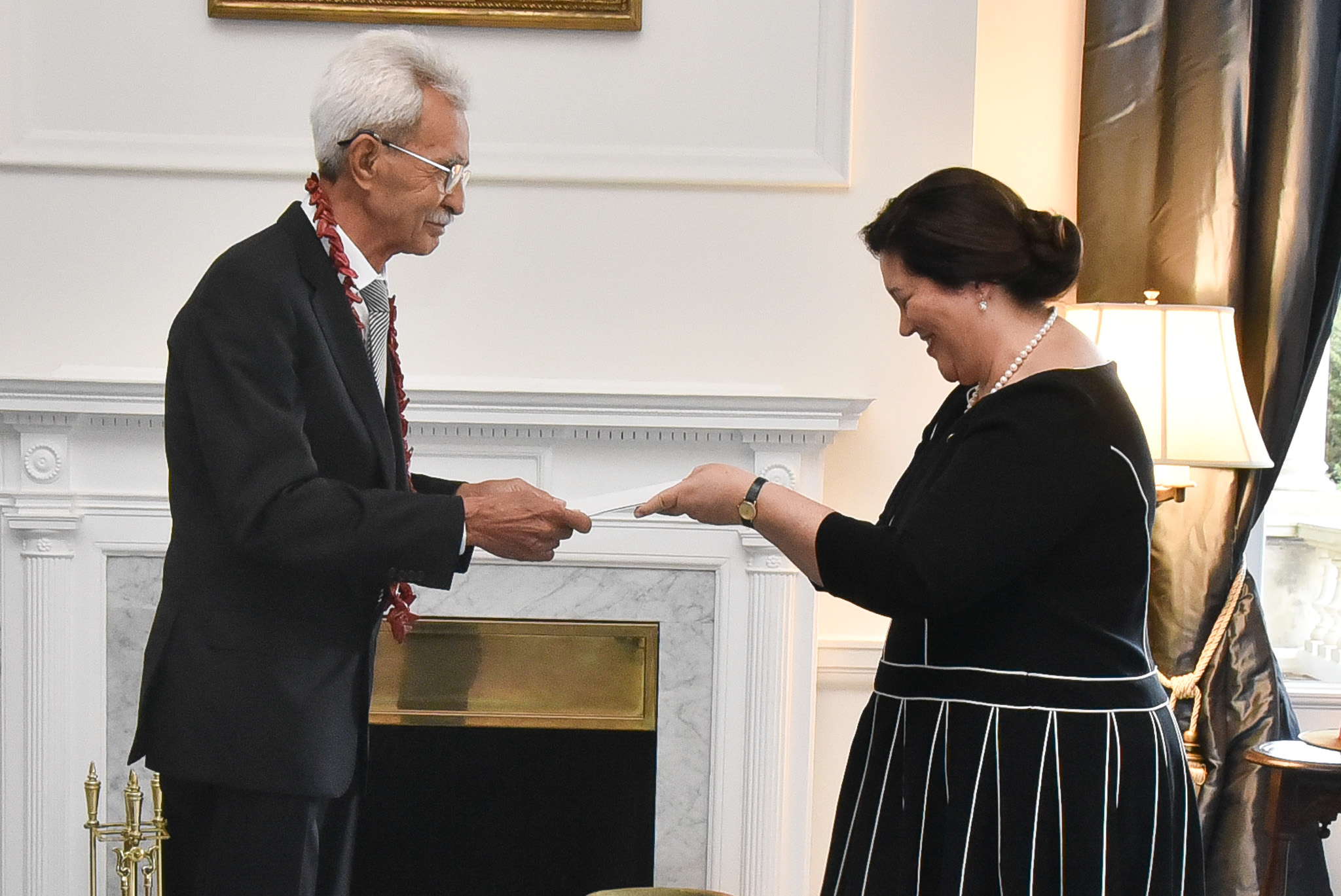 The High Commissioner of the Independent State of Samoa to New Zealand, His Excellency, Afamasaga Faamatalaupu Toleafoa presented his Letter of Credence and Letter of Recall of his predecessor, His Excellency Leasi Papali'i Tommy Scanlan to the Governor General of New Zealand, Rt. Hon. Dame Cindy Kiro, at the credential ceremony held at the Government House in Wellington, on 8 August 2023.
High Commissioner in his remarks during the ceremony, conveyed the Head of State Afioga ile Ao ole Malo, Tuimalealiifano Vaaletoa Sualauvi II's best wishes to the Governor General and the people of Aotearoa New Zealand. The High Commissioner emphasized the special relations both countries share which have been characterised by mutual respect and equal partnership since gaining independence and signing of the Treaty of Friendship in 1962. Last year, Samoa celebrated with New Zealand the significant milestone with the 60 years anniversary of the Treaty of Friendship together with Samoa's 60 years of independence. In furthering Samoa's relations with Aotearoa New Zealand, the High Commissioner reaffirmed commitment to foster cooperation and collaboration in various areas such as health, education, scholarships, sports, environment, and building of infrastructure.
In her responding remarks, the Governor General of New Zealand reciprocated her best wishes to Afioga ile Ao ole Malo, Tuimalealiifano Vaaletoa Sualauvi II and the people of Samoa. The Governor General conveyed appreciation for the warm reception during her visit last year for the commemoration of Samoa's 60th independence anniversary. She commended the High Commissioner's commitment to continue to foster the existing relations and recognizes Samoa's active role in hosting the upcoming Commonwealth Heads of Government Meeting in October 2024. The Governor General expressed her confidence that the appointment of the High Commissioner will yield fruitful outcomes and generate many opportunities for the betterment of both countries.
H.E. Afamasaga Faamatalaupu Toleafoa is a career diplomat with vast experience when he served as the Samoa Consul General in Auckland in 1984 and Samoa's Ambassador in Brussels from 1989-1997. Prior to these diplomatic appointments, Afamasaga served as an economist for the Department of Economic Development and Trade from 1971-1973; and SPEC (Forerunner to PIFS) from 1973-1976. His first diplomatic assignment was in 1976 as First Secretary in establishing Samoa's first diplomatic post in Wellington, New Zealand. From 1997-2001, Afamasaga became a member of parliament and later founded the Remuneration Tribunal in 2003.
H.E. Afamasaga Toleafoa's passion is in farming as the founding Chairman of the Pacific Islands Farmers Organisation Network (PIFON) in 2013. He was previously the Chairman of the Samoa Farmers Association (SFA) before being assigned as Samoa's newly appointed High Commissioner in 2023. Afamasaga attended Samoa College and Timaru Boys High School before pursing tertiary studies at the University of Otago graduating with a Bachelor of Commerce, majoring in Economics and with a Post Graduate Diploma in Commerce (with Credit).
The High Commissioner was accompanied by his spouse, Philippa Toleafoa, the Samoa Consul General, Mr Afemata Palusalue Faapo II Sakaio together with family members and staff of the Samoa High Commission. H.E Afamasaga Toleafoa will serve as Samoa's High Commissioner in Wellington for three (3) years.