Ava Ceremony for the Manu Samoa Rugby Team
22nd June 2021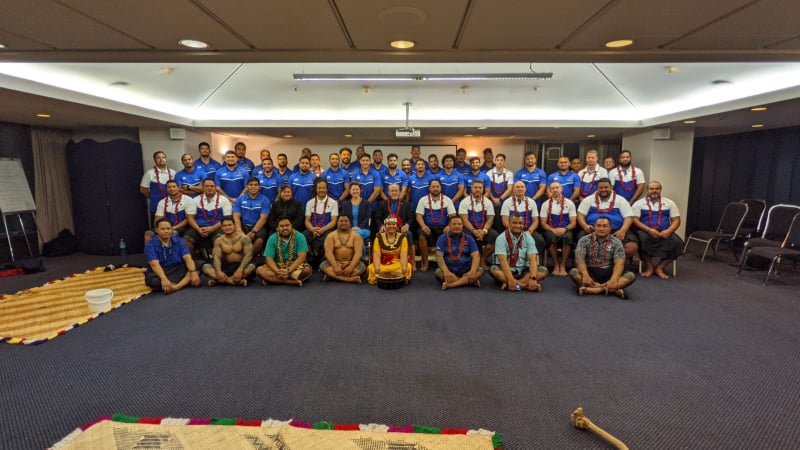 On Monday 21st June, the Samoa High Commission, together with the Marist Old Pupils Association in Wellington, hosted an Ava Ceremony for the Manu Samoa rugby team at the James Cook Hotel. The evening started off with a Prayer and a beautiful Hymn sung by the Manu Samoa Team and Management. The Ava Ceremony followed, together with Speeches from both sides.

The Samoa High Commissioner (H.E. Leasi Papali'i Scanlan) in his speech congratulated the Manu Samoa players for being selected to play for Samoa. At the same time, the High Commissioner thanked the 'Boys' for choosing to play for Samoa despite the fact that they have other commitments and contracts which could earn them more money. Leasi acknowledged that, the fact that they have chosen to play for Samoa is confirmation of the Players appreciation and love for their Parents and Grandparents who left Samoa many years ago to seek a better future for their families overseas. The High Commissioner referred to the current challenges faced by Samoa, especially with regards to COVID-19 and the political situation. He urged the Manu Samoa Team to play hard and with heart for our Country and People in Samoa and throughout the world. The High Commissioner reminded the Team of the 1991 World Cup Manu Samoa Team who played with a lot heart and pride and they won, despite the many odds against them. Leasi concluded by also thanking the Coach and Management for their continued allegiance and love for Samoa and wished the Team all the very best in their upcoming games against the Maori All Blacks and Tonga.

The Manager of the Manu Samoa (Su'a Hesed Ieremia) spoke on behalf of the Management and Team to thank the Samoa High Commission and the Marist Old Pupils Association for honouring the Manu Samoa with the Ava Ceremony. The evening concluded with a group photo with the Manu Samoa players and Management, followed by dinner to fellowship further with the Team. The Manu Samoa will play the Maori All Blacks on Saturday 26th June 2021@ Sky Stadium, Wellington at 7:05pm. They will then play two games against Tonga on Saturday 10th July 2021 at Mt Smart Stadium in Auckland and Saturday 17th July in Hamilton, to qualify for the Rugby World Cup in 2023.

The High Commissioner was accompanied by his spouse, Joyce Scanlan; the Counsellor, Mr. Robert Niko Aiono and spouse; and the First Secretary, Mr. Tau Jurgen Kappus.