Book Launch of the TATAU: A History of Sāmoan Tattooing by Sean Mallon and Sébastien Galliot
15th August 2018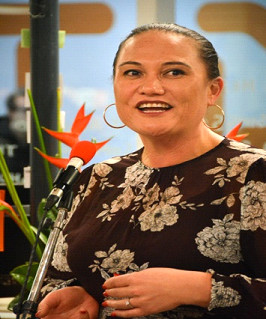 Unity Books Wellington and Te Papa Press launched the book Tatau: A History of Sāmoan Tattooing by Sean Mallon & Sébastien Galliot on the 15th August 2018 at Unity Books, on 57 Willis Street Wellington.
The Sāmoan Islands are virtually unique in that tattooing has been continuously practiced with indigenous techniques. The full male tattoo (the peʻa) has evolved in subtle ways in its design since the nineteenth century, but remains as elaborate, meaningful, and powerful as it ever was. This cultural history is the first publication to examine 3000 years of Sāmoan tatau.
Mr Sean Mallon is of Sāmoan and Irish descent and is Senior Curator Pacific Cultures at the Museum of New Zealand Te Papa Tongarewa. Whereas, Mr Sébastien Galliot studied ethnology at the University of Provence and EHESS (Paris), France's foremost research school in social sciences. Hon. Carmel Sepuloni, Associate Minister of Arts, Culture & Heritage spoke on behalf of the Government of New Zealand to launch the book "Tatau". The Counsellor (Ms Belinda Filo-Tafunai) represented the Samoa High Commission at the book launch.