Celebration of 25 years of Diplomatic Relations between Argentina and Samoa
13th June 2018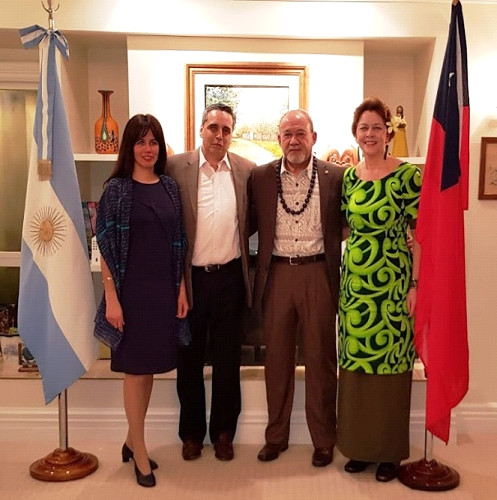 In celebration of the two countries 25 years since the establishment of diplomatic relations on the 18th May 1993, an informal reception co-hosted by the Argentine Ambassador, H.E Mr Fausto Lopez Crozet and the Samoa High Commissioner, H.E Mr Leasi Papali'i Tommy Scanlan was held on the 13th June 2018 at the Argentine Ambassador's residence in Karori, Wellington New Zealand.

The program commenced with the exchange of remarks firstly from the High Commissioner of Samoa who spoke on this significant milestone, as it is a testament to our two countries' deep desire to continue working closer together to forge mutually beneficial partnerships. Samoa values greatly its relationship with Argentina to further strengthen and deepen the cooperation and exchanges in all areas, with a special focus on agriculture, culture, tourism, and sports. The same sentiments were echoed by the Ambassador of Argentina who spoke fondly of the two countries close diplomatic relations which counts on the people and their behaviour which is key in further strengthening these bonds.

At the conclusion of their remarks, congratulatory messages from the Minister of Foreign Affairs and Worship of Argentine, Hon. Jorge Faurie and the Prime Minister and Minister of Foreign Affairs of Samoa, Hon. Tuilaepa Lupesoliai Sailele Malielegaoi were exchanged between the two Heads of Missions. The reception was well attended by members of the Diplomatic Corps, NZ Ministry of Foreign Affairs and Trade, the Argentine and Samoan Community. The distinguished guests had the opportunity to taste the traditional delicacies from both Argentina and Samoa prepared courtesy of the two Diplomatic Missions in Wellington, New Zealand.