Church Services for Samoa's 57th Independence Celebration & Samoa Language Week
2nd June 2019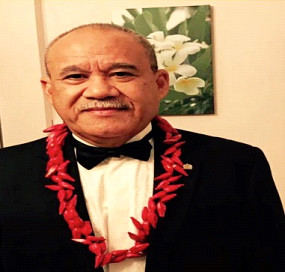 A church service for the official opening of the Samoan Language Week under the theme 'Lalaga le si'osi'omaga mo se lumana'i manuia' translation in English means - 'Weave an environment for a better future' was held at the Pacific Islanders Presbyterian Church in Porirua on Sunday 26th May 2019. The programme and procession of the service was put together by Rev. Perema Leasi. The Samoa High Commissioner, H.E Leasi Papali'i T. Scanlan, as keynote speaker stressed the importance and the significance of this annual event to acknowledge and celebrate the Samoan Language and Culture, especially in the lives of Samoans living in Aotearoa New Zealand. The event was well attended by the Samoan community in Wellington.

On Saturday 1st June 2019, the Samoa High Commission celebrated Samoa's 57th Independence Day during a reception held at the Wharewaka Function Centre. The Reception was well attended by over 150 invited guests from the Diplomatic Corp, New Zealand Parliament and the Samoan community. The keynote address was delivered by H E Papali'i T Scanlan where he highlighted the strong relationship between Samoa and New Zealand which he described as a "marriage", especially the priority areas where New Zealand continues to provide assistance including the energy sector, tourism sector, private sector development and others for which the Government of Samoa is grateful. Furthermore, the High Commissioner acknowledged the benefits of the existing Recognised Seasonal Employment Scheme.

The Minister of Pacific Peoples, Hon Aupito Su'a William Sio, spoke (on behalf of the Government of New Zealand) to reaffirm the close relationship between NZ and Samoa as manifested in the Treaty of Friendship signed by the two countries in 1962. The Minister went on to highlight the policies promoted by the current Government to enhance this close relationship. He then proposed a toast to His Highness the Head of State, the Prime Minister and all the people of Samoa.

A church service was held on Sunday 2nd June 2019 at the Wellington Methodist Parish to officially close the Samoan Language Week and Independence Day Celebration.