Invitation from the Australian Minister of International Development and the Pacific for Morning Tea and Tour at the Te Papa Pacific People's Exhibition
23rd April 2021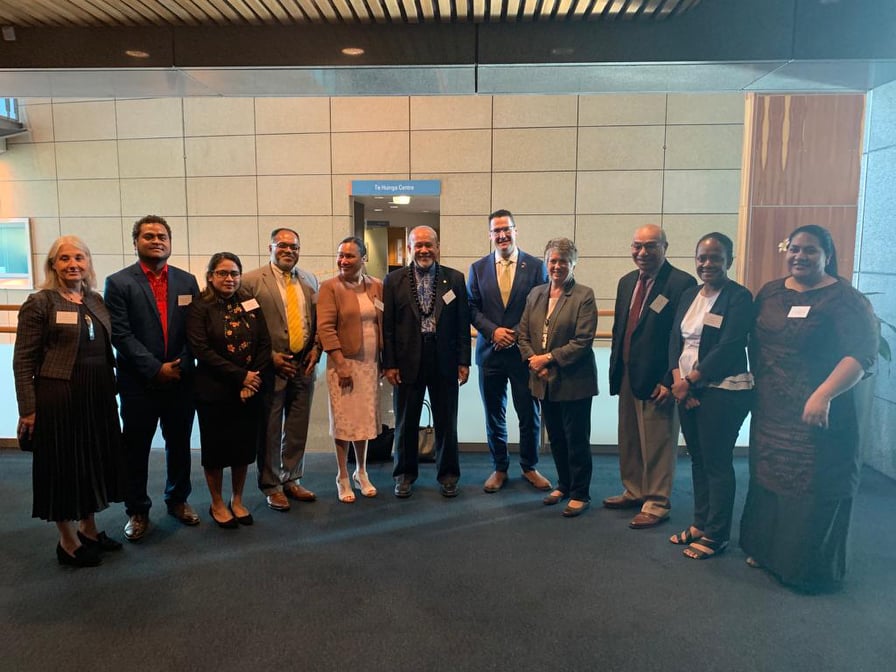 On Thursday 22nd April 2021, the Samoa High Commissioner (H.E. Leasi Papali'i Scanlan) and other Heads and Deputy Heads of Mission from the Pacific and Timor Leste were invited by the Australian High Commission to a morning tea and tour of the Te Papa Pacific People's Exhibition with Senator Hon. Zed Seselja, the Australian Minister for International Development and the Pacific. Dame Fran Wilde (Chairperson of the Te Papa Board), Ms Jackie Frizelle (NZ MFAT) as well as Staff of the Australian High Commission and Te Papa Museum were also present.

During morning tea, the opportunity was presented to our Diplomats to hear from Senator Hon Zeselja of the Australian Government's plans for the Pacific as regards COVID-19 vaccines and the Region's post-covid economic recovery. The Minister noted his wish to visit the countries of the Pacific and hold face-to-face discussions with his counter-parts as soon as the borders are open. There were one-on-one discussions between the Minister and Pacific Diplomats which was followed by a guided tour of the Te Papa Pacific People's Exhibition. The Minister and the Dip Corps Group were also honoured to visit and view many of the Pacific Islands' rare and valuable artifacts stored in the backroom of the Museum.

At the end of the Tour, the Senator Hon Zed Seselja thanked the Diplomats for meeting with him and joining him on the tour. He also thanked the Te Papa staff for the exciting Tour and for their hospitality. In his role as Dean of the Diplomatic Corps, the Samoan High Commissioner thanked the Minister for his visit and especially for including the meeting with the Pacific Diplomats in his tight Program. His Excellency also thanked the Minister for his Government's acceptance of seasonal workers from the Pacific to work in Australia. This kind gesture is very much appreciated especially at this time when the economies of the Island Countries are severely affected by the borders' closedown. Leasi added that there are many more Pacific Island workers ready and willing to help alleviate Australia's labour shortage and requested the Minister to kindly look at this on his return to Capital. The High Commissioner added the Pacific Diplomats appreciation to the Australian High Commission for arranging the Minister's Program and thanked Te Papa staff for the guided tour.