Israel and Samoa Sign Visa Waiver Agreement in Jerusalem
7th March 2019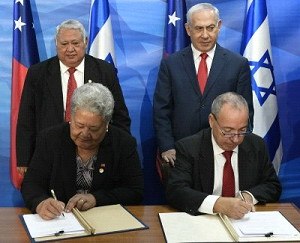 Israel hosted the Prime Minister of Samoa, H.E. Tuilaepa Sa'ilele Malielegaoi on his first official visit to Israel from the 3rd to 7th March 2019. The Prime Minister Malielegaoi was accompanied by his spouse Mrs Gillian Malielegaoi, the Minister of Finance Hon. Sili Epa Tuioti, the Chief Executive Officer of the Ministry of Foreign Affairs & Trade Ms Peseta Noumea Simi and the Chief Executive Officer of the Ministry of the Prime Minister & Cabinet Mr Agafili Shem Leo.

One of the highlights of the official visit was the meeting between the Prime Minister of Israel, Benjamin Netanyahu in Jerusalem and Prime Minister Tuilaepa Sailele Malielegaoi whereby the Visa Waiver Agreement between Israel and Samoa was signed. The Agreement allows freer travel for Samoans entering Israel for stays of up to 90 days which is similar for Israel nationals visiting Samoa.

The Deputy Director General for Asia and the Pacific, Gilad Cohen, during his meeting with Prime Minister Tuilaepa Sailele Malielegaoi discussed the opportunity for regional cooperation in the Pacific, including how new ideas being developed by Israeli researchers can be shared with the Government of Samoa in an effort to address climate change, in addition to Israel's existing contribution to the Government of Samoa's agriculture and water supply.

This agreement signifies further cooperation between both Israel and Samoa and enhanced investment in tourism. The initiation of this Visa Waiver Agreement commenced in Wellington, New Zealand through the Diplomatic Missions of the Embassy of Israel and the Samoa High Commission in liaison with their Capitals. According to Article 10 of the Agreement, the prerequisite for entry into force of the Agreement is 90 days from the date of the second notification by which Parties notify each other that the Agreement has been ratified. Unfortunately, due to political uncertainty in Israel, the Agreement is yet to be ratified.