Ambulance for Samoa
3rd July 2020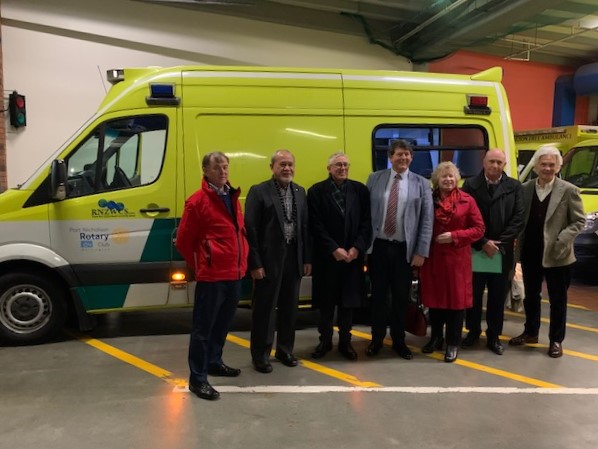 Last night the High Commissioner and Dean of the Diplomatic Corps (HE Leasi Scanlan) and Mrs Joyce Scanlan attended the Ceremony to recognise and thank the large number of businesses and people who have helped with their time, skills and financial support towards the Project of providing an Ambulance for Samoa. The Ceremony was held at the Headquarters of Wellington Free Ambulance (WFA).

The Rotary Club of Port Nicholson in Wellington, with the support of their non-government organisation (Rotary New Zealand World Community Service Ltd), have been fundraising for several months to refurbish, repaint and fund the transport to Samoa of an ambulance donated by Wellington Free Ambulance. The Ambulance is less than 10 years old and is in excellent condition. It comes with all the necessary emergency and medical fitouts.

In March this year, the High Commissioner was invited to be the Guest Speaker (on Samoa/New Zealand relations) at one of the Port Nicholson Rotary Club's breakfast meetings where the keys for the Ambulance were handed over to him.

Last night, Mr Mike Grant (the Chief Executive of WFA) welcomed the invited Guests and spoke of how happy they are in being able to assist the people of Samoa through provision of an Ambulance. Mr David Shackleton (Immediate Past President) spoke on behalf of the Port Nicholson Rotary Club in thanking WFA for their very kind donation and support. He then acknowledged and thanked all the many businesses and individuals for their time and contributions which have made this Project a reality.

In his address, the High Commissioner thanked (on behalf of the Samoan Government and People) the President and Members of the Port Nicholson Rotary Club for their kindness and love which has resulted in this amazing initiative. His Excellency also thanked WFA as well as all those who have contributed in one form or another towards the Project.

The High Commissioner noted that the Ambulance will be hugely beneficial for Samoa not only in times of emergency but also in delivering much needed medical supplies and services, especially to the rural areas where close to 60 percent of Samoa's population reside. His Excellency concluded by requesting WFA for further assistance for Samoa in future through other means of transportation. The Chief Executive of Wellington Free Ambulance acknowledged His Excellency's request and added that they will look at it.

The Ambulance will be driven to Auckland next week where it will be loaded onto a ship for Samoa. All going well, the Ambulance is expected to arrive in Apia by the end of the month.