First Biannual Diplomatic Corps Meeting for 2022 and Farewell for the High Commissioner of Australia
8th March 2022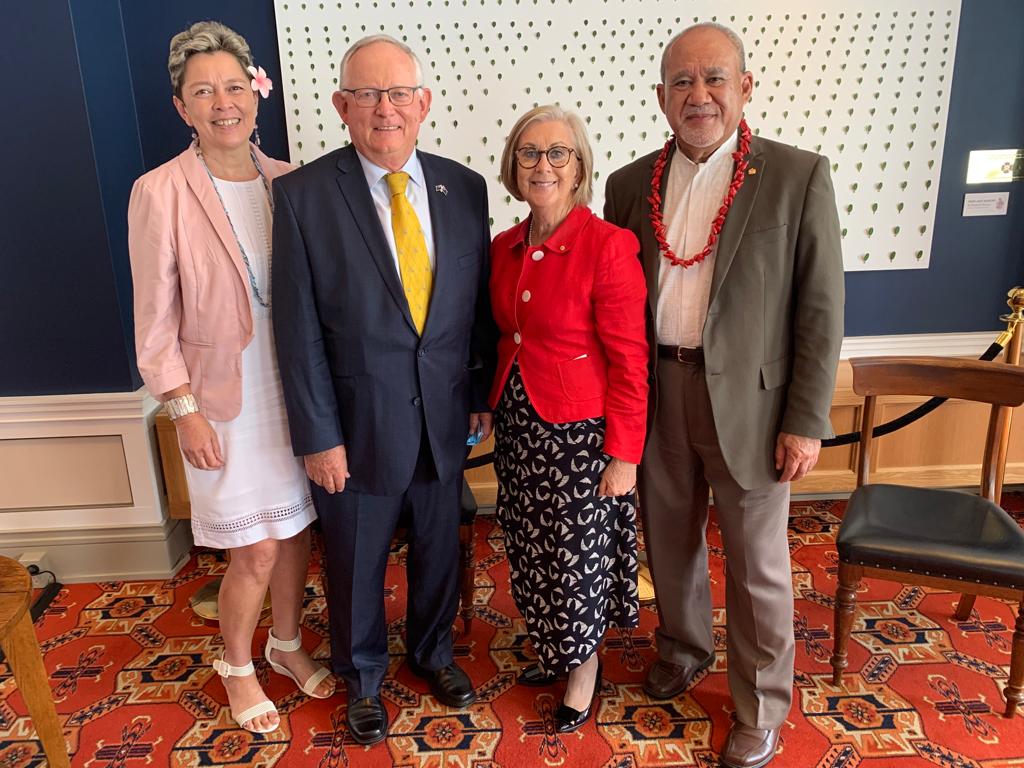 The first biannual New Zealand Diplomatic Corps Meeting for 2022 was held on Wednesday 2 March 2022 at the Wellington Club. The Meeting opened with a prayer and welcome by the Dean of the Diplomatic Corps and Samoa High Commissioner (HE Leasi Papali'i T. Scanlan). Special welcome was extended by the Dean to the new Ambassadors to NZ, namely from: China, Indonesia and Vietnam.

The attacks on Ukraine weighed heavily on the minds of the many diplomats present with a number of representatives, led by the EU Ambassador, voicing their condemnation of this devastating event. The Apostolic Nuncio of the Holy See (HE Archbishop Novatus Rugambwa Rwechungura) shared with the Dip Corps that Pope Francis had asked the world to pray and fast for the people of Ukraine. The Apolistic Nuncio also proposed a prayer service for Ukraine.

The Guest Speaker for the Diplomatic Corps Meeting was Mr Rod Harris, Chief of Protocol of the New Zealand Ministry of Foreign Affairs and Trade. Mr Harris assisted by Deputy Chief of Protocol (Ms Penny Mitropoulos) who briefed the attending diplomats on New Zealand's COVID-19 response, 'Reconnecting New Zealand to the World', timeline as well as a proposed Study Tour to take place in June 2022.

The Meeting concluded with the farewell for the Australian High Commissioner (HE Hon Patricia Forsythe) and her husband Mr David Forsythe. The Dean spoke, on behalf of the Diplomatic Corps, to thank HE Patricia and David for their support and positive contributions to the activities of the Diplomatic Corps during their three years in Wellington. Both the High Commissioner and Spouse spoke of their fond time in New Zealand and expressed gratitude to the Dean and the Diplomatic Corps for their assistance and friendship. Previous to her appointment as High Commissioner of Australia, HE Forsythe was the Executive Director of the Sydney Business Chamber as well as a Member of the New South Wales Legislative Council. She assumed office in New Zealand in March 2019.

The British High Commissioner HE Laura Clark and spouse Toby Fisher presented the Diplomatic Corps' farewell gifts to their departing colleagues.