Waitangi Day Commemoration 2021
9th February 2021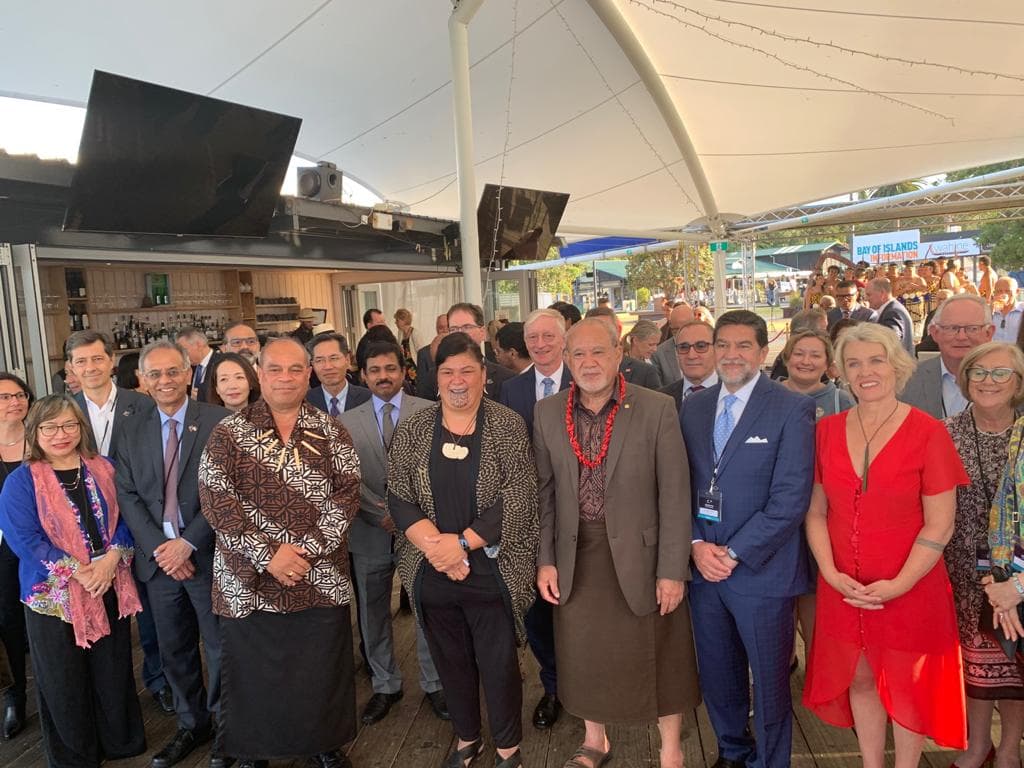 As in previous years, and on the invitation of the New Zealand Government, the Diplomatic Corps Heads of Mission attended the Waitangi Treaty Commemorations held in Waitangi from 4 & 5 February 2021. The Samoa High Commissioner and his spouse (Mrs. Joyce Scanlan) attended the 2 day Commemoration Programme. The Programme started off on Thurday 4th February with a Welcome by the Chief of Protocol of MFAT and a briefing, particularly for the new Heads of Diplomatic Missions attending Waitangi for the first time. This was followed by a Reception hosted by the New Zealand Minister of Foreign Affairs and Trade. The Reception was opened with a Mihi Whakatau which preceded the Address by the Minister, Hon. Nanaia Mahuta, who outlined the NZ Government's Foreign Policy Initiatives and Priorities for the next three years. The High Commissioner of Samoa, H.E. Leasi Papali'i Scanlan, responded on behalf of the Diplomatic Corps acknowledging the close relationship between the countries represented by the Dip Corps and New Zealand. The High Commissioner & Dean of the Diplomatic Corps thanked the Minister for the New Zealand Government's priority focus on issues of great importance, not only to the countries represented in Wellington but also to the Pacific Island Countries. These issues include; COVID-19, Climate Change, Security, Trade, the Pacific Reset, RSE and Economic Development.

The following day, the Diplomatic Corps attended a special Powhiri (Welcome Ceremony) in the Te Whare Rūnanga at Waitangi. This was followed by a tour of the Waitangi Treaty grounds which all the members of the Diplomatic Corps found enlightening, educational and memorable. The Governor General (H.E. Rt. Hon Dame Patsy Reddy) and Sir David Gascoigne then hosted a lunch for the Diplomatic Corps at the Duke of Malborough Hotel in Russel. The Diplomatic Corps were very honoured not only to be hosted by their Excellencies but to also hear Dame Patsy's final address at Waitangi before she retires this year. The Dean of Diplomatic Corps was given the honour to respond to the Governor General's address. The day concluded with the 'Beat The Retreat' Ceremony carried out by the Royal New Zealand Navy which culminated with the lowering of the New Zealand flag.

On Saturday 6th February, the Members of Diplomatic Corps then travelled down to Wellington to attend the Governor General's Waitangi Day Reception held at the Government House.